Julie: Funding the Future, for Good Reason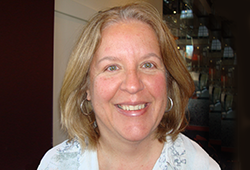 Julie is a writer who grew up with her family—and with public television— in Chicago, the youngest of four children. After taking a year to experience the working world following high school, she enrolled in Southern Illinois University, where she earned bachelor of arts and master of science degrees, studying botany and chemistry. She came to Research Triangle Park, North Carolina in 1990 via Florida and Massachusetts, where her scientific background led her to a 15-year career in pharmaceutical research, followed by her dream of a career as a writer.

Julie deems that college and career are not where she received her real education, though. Her depth of knowledge and understanding came from worldwide travels in her early 20s. Her father worked for a large corporation that gave her parents the chance to live in Singapore and gave Julie the opportunity to travel there each summer during college. En route across the globe, she visited foreign countries all across Europe, Asia, and the Middle East. Her travels supplemented her technical education with culture, art, and a deeper understanding of the ways of the world.

Julie enjoys all types of programs on PBS NC including PBS NewsHour, NOVA, history programs, Ken Burns documentaries, and—like so many of us— Downton Abbey. She is also a PBS NC volunteer, routinely donating her time to answer donor calls during fund-raising drives and to help out at the PBS NC booth at the State Fair. She has seen firsthand what it takes to run a statewide television network, citing the specialized equipment and experienced staff needed. When asked why she decided to leave a legacy gift to PBS NC, Julie answered analytically first: "PBS NC and public television in general have incurred substantial cuts in government funding, and, quite frankly, I don't want PBS NC to go away."

Adding from another point of view, she says, "PBS NC programming plays an important role in educating its viewers by providing the fundamentals of learning, but it also provides the more intangible but equally important elements of development—like perspective, appreciation, critical thought, and understanding. Public television content complemented my formal education, my travels, and my life experiences—like a knowledgeable companion. Whether you to travel the world or stay closer to home, public television brings the world into all of our living rooms. My future gift will help ensure that PBS NC can continue to do so for years to come."