Joan and Monty: Sharing Their Quest for Knowledge and Understanding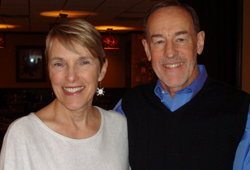 For Joan and Monty, travel has always been a big part of their lives together. In fact, they had to travel just to meet one another. Joan grew up in Massachusetts (in a household that watched and supported public television) and enjoyed touring New England and Canada with her family. Monty hails from Connecticut and spent summers camping and enjoying the beaches of the northern Atlantic. They met in Rhode Island, after which Monty's career with the Department of Veterans Affairs brought them to North Carolina. They have called North Carolina home for more than eighteen years.

Both retired now, Joan and Monty decided to spend some time exploring new destinations and experiencing different cultures. Their first trip abroad took them to England, followed by excursions to places like Switzerland, Italy, Tanzania, and the Galapagos Islands.

When Joan and Monty travel, they do so with the intention of learning as much as possible about the history, people, and cultural nuances of the many and varied places that make up our world—and PBS NC has served as a reliable and ready resource for just that. Joan and Monty are avid viewers of PBS NC's many history, travel, and lifestyle programs (and particular fans of UNC-EX) as well as PBS NewsHour and the BBC News, gleaning guidance and insight into the locations they visit and the complex interrelationships of the global community.

Joan and Monty support PBS NC as members of the Producers Circle and the Legacy Society. While they continue their ongoing and generous annual support, they have also made provisions for PBS NC's future by including a gift to PBS NC in their will. "PBS NC is a wonderful source for information and ideas. We have learned so much from watching it, and we want to do what we can to make sure it is available for a long, long time," Monty explains. "As a teacher, I appreciate and value public television's advocacy of knowledge," Joan adds. "PBS NC programming is a treasure, and it should not be missed by future generations."